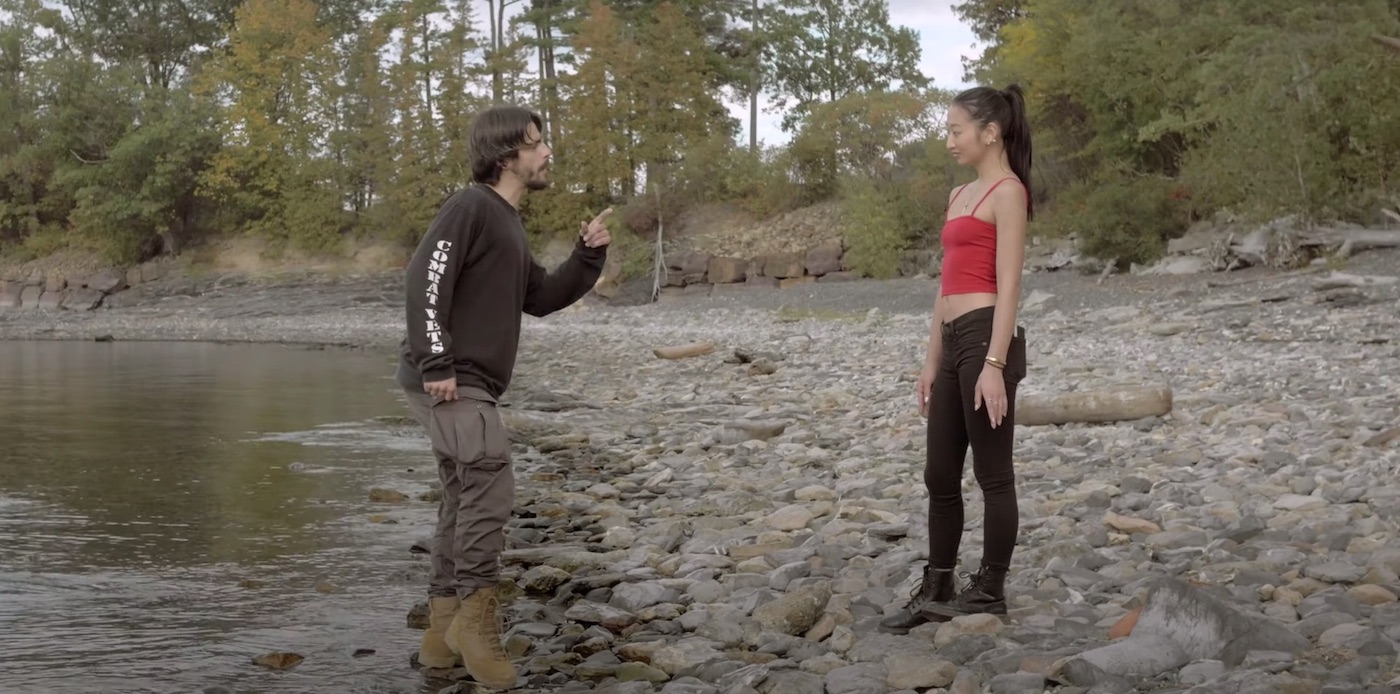 Full Tac and Lil Mariko are Making Really Good Art (& Other Romantic Couples That Collaborate Professionally)
Published July 5, 2020, Page Last Modified May 22, 2023
[Title artwork from "Baby Let Me Know" (Official Video) by Full Tac]
I've been pretty obsessed with Full Tac (@fulltac) and Lil Mariko (@katmarikoz) since I discovered them this past April.
It might be because they are both good-looking and hilarious. In fact, I'm sure that's one of the reasons. But the reason I really like them so much is because they're actually carving out their own niche and making unique music, music videos, and skits that are just so clearly original in style.
To quickly get caught up, you can first watch their most viral hit "Where's My Juul??".
If you didn't watch, at least read this epic verse:
I swear to God, bitch, if you stole my fucking JUUL
I will break each and every one of your goddamn fucking fingers
And if I find that shit
Aha, I will fucking ram that shit so far down your throat
You're gonna be fucking coughing up clouds for the next month
You goddamn useless little bitch
Fucking help me find my fucking JUUL

Or you can start with my favorite song and video, "Baby Let Me Know".
The cinematography is sharp and composed. The motion edits create this fantastic style of movement that gracefully carries so much momentum with each change in direction. The song is dreamy, radiant, and hyperactive. The red on Kat Zhang (Lil Mariko) perfectly matches the red convertible. Jared Soule (Full Tac) is a god damn leprechaun. It's like getting the opportunity to explore some alternate universe where everyone's voices have been altered by the increased helium levels in the atmosphere and the world is 25% more whimsical because of it. (Party balloons are also really cheap in this universe).
To top it all off, the music video for "Baby Let Me Know" ends with this amazing post-song scene where Full Tac drags himself across a roof after waking up to get to his iPhone oxygen supply, only to then actually wake up in his bed in the next shot, full on Inception-style. Even in our dreams, we yearn for screens.
Their sound and style is some combination of hyperpop + fire beats + understanding of culture + extreme self-awareness + strong emotional intelligence + silliness + locked-on stabilization effects + absurdity + rawness + high-key sexual undertones (overtones?).
I'm not the only person that has noticed their awesomeness. Doja Cat is also on board:
And somehow, the Full Tac + Lil Mariko cultural microcosm has even roped in my favorite street performer, Matthew Silver (@silver.matthew), too:
Separately, Jared Soule and Kat Zhang are very talented artists. Soule has made many more of those musically-involved Instagram skits.
He also wrote and filmed this absolute fruit ninja banger, "CHOP":
Zhang is a skilled visual artist. I'd recommend exploring her website's full portfolio. In case you don't, here's a piece from her art instagram account, @mariko.zhang:
However, even though Soule and Zhang are each extremely talented on their own, I find that their work together exists in a completely different (and higher) tier. Which brings me to one of the best parts of Full Tac and Lil Mariko: they are in a romantic relationship.
Recently, I've been interested in romantic couples who work together professionally.
The main question I've been thinking about is whether the work romantic partners produce is somehow different from the work that non-romantic collaborators produce. Are there some types of artistics creations that can only be created as a result of romantic interest? When two minds resonate with passion. And does knowing that two people are dating or romantically involved change the way you view their work?
In Full Tac and Lil Mariko's case, I want to say yes to both parts of this question. When I view their work, I feel like I'm third-wheeling just by watching them. They have this exciting, absorbing energy that just pulls you in, and I don't think it would be the same if they weren't together romantically. And because of their comfort with each other, they're probably able to 1) come up with pieces that non-romantic collaborators would simply have a hard time even proposing to one another, and 2) execute their ideas in such an intimate and edgy way that could only come from knowing the other so well.
Just watch these two pieces and judge yourself.
And let me be the first to note too that "I'll never be the same again" is a piece of art that will have a lasting legacy because it beautifully captures a quirk of our historical moment. Boy and girl live together during covid quarantine 2020. Boy's haircut is long overdue. Girl shaves boy's head (all while camera slowly zooms in and boy recites funny monologue in southern accent).
Back to the romance question though: does the work of romantic partners differ from the work of non-romantic collaborators?
In art, I'm especially tempted to say yes.
The artist couples that I am most familiar with are Beyoncé + Jay-Z and Marina Abramović + Ulay. For Beyoncé + Jay-Z, two of their most famous collaborations are "Drunk In Love" and "APESHIT". Both songs are extremely powerful and infused with this deep infatuation, allyship, and bond that, in my opinion, could only come from two lovers.
As for Marina Abramović + Ulay, so many of their most amazing works take shape explicitly because of their deep relationship and partnership—this grand cosmic dance of attraction, passion, and depth. From pressing mouths together and breathing in and out for 19 minutes until they are on the verge of passing out to holding a bow and arrow together and each leaning back while the arrow is pointing right at Marina's heart (for these works and others, see Appendix B).
They were also practicing interpersonal meditation before it was cool. In Nightsea Crossing, they sat at opposite sides of a table and stared at each other for 7 hours a day silently in a meditative state. They did this for multiple days in a row in over twenty different locations. From a description of the piece—"Presence. Being present, over long stretches of time, Until presence rises and falls, from Material to immaterial, from Form to formless, from Time to timeless."—it basically sounds like they were experiencing jhanas.
After many years of working together and producing some really incredible art, their long and intense artistic and romantic relationship was starting to fade. To gracefully conclude their relationship with one final act, Marina and Ulay started on opposite sides of the Great Wall of China and each walked toward the other until they met in the middle. After each walking continuously for 90 days, they converged at Er Lang Shan in Shenmu and said goodbye. (Though their shared timeline definitely doesn't end there. It also includes this emotional scene of Ulay surprising Marina at the opening night of "The Artist is Present" that went viral and Ulay eventually suing Marina for not compensating him and crediting him for their joint work together.)
In the art world, there are many more examples of lover-collaborators. In response to my Facebook post, my friend Che pointed me in the direction of Modern Couples, an exhibition at the Barbican which features artist couples and their works, and my friend Brandon pointed me toward a video called "Artists in Love" from PBS's The Art Assignment.
My friend Wendi pointed out that many architecture studios are run by couples. And from my cursory research on this subject (with no numbers to back up this claim), it really does seem like this profession has an outsized number of romantic collaborators. See this New York Times article, "Couples Who Build More Than Relationships", and Architectural Digest's "The Power Couples of Architecture and Design".
While romantic collaborations in the arts do seem to add something extra to artistic works, it's pretty hard to figure out if romantic collaborations in other fields like science and business really add anything that couldn't exist without the romance. And to consider the opposite effect, is it possible that romance detracts from the work somehow?
The abstract of a 2002 study on entrepreneurial couples called "Copreneurs: An Exploration and Comparison to Other Family Businesses" notes that:
"On average, copreneurial households are more likely to live in a rural area, have spouses working more weeks per year in the business, and have home-based businesses than are noncopreneurial households. Copreneurs report significantly lower levels on all objective and subjective measures of financial success than do noncopreneurs. They are more likely to view business as a way of life rather than a way to earn income when compared to noncopreneurs."
And while science in practice is actually less science and more art than we'd like to admit, my bet is that in more abstract, axiomatic, and conceptual fields like math and science, romance will have barely any noticeable effect on the quality of collaborations. Yes, there is creativity in science and math, but I don't think it's the kind of creativity that romance fuels in some interesting way.
This thread on romantic couples who work together professionally is nowhere close to being a thorough exploration of the topic. I also started this post mainly as an excuse to signal-boost Full Tac and Lil Mariko because I think they're really freaking cool. But if you'd like to pick up the baton from here, Appendix C, which is a list of couples I've compiled that fit this category, might be a good place to start.
Appendix A: More Pieces by Full Tac + Lil Mariko to Explore
Lil Mariko - Don't Touch (feat. Full Tac) [Official Audio]
BigKlit -Liar (prod. FULL TAC) Official Video
Dorian Electra - Sorry Bro (I Love You) [Lil Mariko & Full Tac Remix]
it tasted like rain
She Shot Me: An Instagram Love Story
Appendix B: Some Works of Marina Abramović + Ulay
Relation in Space
Breathing In/Breathing Out
Imponderabilia
AAA-AAA
Rest Energy
Nightsea Crossing
Lovers
Appendix C: Romantic Couples That Work Together Professionally
Wikipedia List of Married Couples
https://en.wikipedia.org/wiki/Category:Married_couples
Couple Architects & Designers (Combined From Multiple Sources)
Robert Venturi and Denise Scott Brown
Aline B. and Eero Saarinen
Charles and Ray Eames
Alison and Peter Smithson
Meejin Yoon and Eric Howler
Elizabeth Diller and Ricardo Scofidio
Florence and Hans Knoll
Louise and Robert Bethune
Marion and Walter Burley Griffin
Anne Tyng and Louis Kahn
Robin Standefer and Stephen Alesch
Amale Andraos and Dan Wood
Billie Tsien and Tod William
Mimi Hoang and Eric Bunge
Diana Agrest and Mario Gandelsonas
Pablo Castro and Jennifer Lee
Laura Briggs and Jonathan Knowles
From My Facebook Post + Conversations With Friends (Not Architects)
Cécile Vogt-Mugnier and Oskar Vogt
Alexander and Ann Shulgin
Paul Graham + Jessica Livingston
Nina and Tim Zagat
Kate and Andy Spade
Joel Coen and Frances McDormand
Masters and Johnson
Roberta Smith and Jerry Saltz
Bernd and Hilla Becher
Patricia and Paul Churchland
Aishwarya Rai and Abhishek Bachchan
Abhijit Banerjee and Esther Duflo
Marie and Pierre Curie
Emilie du Châtelet and Voltaire
Ismail Merchant and James Ivory
Mary Shelley and Percy Shelley
Kenneth and Mamie Clark
Virginia and Leonard Woolf
Luca Turin and Tania Sanchez
Verlaine and Rimbaud
Sylvia Plath and Ted Hughes
Marie-Anne Pierrette Paulze and Antoine Lavoisier
Simone de Beauvoir and Jean-Paul Sartre
John Stuart Mill and Harriet Taylor Mill
Mileva Maric and Albert Einstein
Robert and Clara Schumann
Bonnie and Clyde
Ferdinand of Aragon and Isabella of Castille
Justinian I and Theodora
Inez and Vinoodh
Jerry Stiller and Anne Meara
Bill and Melinda Gates
Jeff and Mackenzie Bezos
Brad Pitt and Angelina Jolie
Ezra Pound and H.D. (Hilda Doolittle)
Fleetwood Mac
John Lennon and Yoko Ono
John and Alice Coltrane
June Carter and Johnny Cash
Jane Birkin and Serge Gainsbourg
Oh Wonder (Anthony West and Josephine Vander Gucht)
Videoclub (Adèle Castillon and Matthieu Reynaud)
The White Stripes (Jack White and Meg White)
Matt and Kim (Matt Johnson and Kim Schifino)
Blake Shelton and Gwen Stefani
Mila Kunis and Ashton Kutcher
John Kransinski and Emily Blunt
Bill and Hillary Clinton
Samantha Power and Cass Sunstein
From Modern Couples
Camille Claudel and Auguste Rodin
Emilie Flöge and Gustav Klimt
Marianne von Werefkin and Alexej von Jawlensky
Alma Mahler and Gustav Mahler
Gabriele Münter and Wassily Kandinsky
Gerda Wegener and Lili Elbe
Sonia Delaunay and Robert Delaunay
Natalia Goncharova and Mikhail Larionov
Claude Cahun and Marcel Moore
Vanessa Bell and Roger Fry
Alma Mahler and Oskar Kokoschka
Lilya Brik and Osip Brik
Virginia Woolf and Leonard Woolf
Margrethe Mather and Edward Weston
Vanessa Bell and Duncan Grant
Varvara Stepanova and Alexander Rodchenko
Hannah Höch and Raoul Hausmann
Lilya Brik and Vladimir Mayakovsky
Sophie Taeuber-Arp and Jean Arp
Natalie Clifford Barney and Romaine Brooks
Georgia O'Keeffe and Alfred Stieglitz
Benedetta and Filippo Tommaso Marinetti
Lavinia Schulz and Walter Holdt
Lucia Moholy and László Moholy-Nag
Winifred Nicholson and Ben Nicholson
Aino Aalto and Alvar Aalto
Tina Modotti and Edward Westo
Eileen Gray and Jean Badovici
Toyen and Jindřich Štyrský
Federico García Lorca and Salvador Dal
Lilly Reich and Ludwig Mies van der Rohe
Vita Sackville-West and Virginia Wool
Til Brugman and Hannah Höch
George Platt Lynes, Monroe Wheeler and Glenway Wescott
Frida Kahlo and Diego Rivera
Nancy Cunard and Henry Crowder
Lee Miller and Man Ray
Barbara Hepworth and Ben Nicholson
Eileen Agar and Paul Nash
Dora Maar and Pablo Picasso
Leonora Carrington and Max Ernst
PaJaMa: Paul Cadmus, Jared French and Margaret French
Lee Miller and Roland Penrose
Dorothea Tanning and Max Ernst
Maria Martins and Marcel Duchamp
Unica Zürn and Hans Bellmer
From "Artists in Love", not in Modern Couples
Merce Cunningham and John Cage
Josef and Anni Albers
Gwendolyn Knight and Jacob Lawrence
Claes Oldenburg and Coosje van Bruggen
Sonya and Robert de Launay
Lee Krasner and Jackson Pollack
Elaine and William de Kooning
Robert Rauschenberg and Jasper Johns
Christo and Jeanne-Claude
Patti Smith and Robert Mapplethorpe
Gilbert and George
Rachel Feinstein and John Curran
Elora and Cal Cydia
Citation
Zuckerman, Andrew, "Full Tac and Lil Mariko are Making Really Good Art (& Other Romantic Couples That Collaborate Professionally)", July 5, 2020, http://andzuck.com/blog/tac-mariko/
Subscribe
Get notified when I write new essays